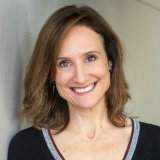 As a dedicated Realtor and Certified Hyperlocal Real Estate Specialist, Barbara's goal is to love people well in providing great real estate services. She shares genuine friendship through the whole buying/selling process and seeks to be a trusted real estate resource for Colorado Springs. A foundational goal of Barbara's is providing accurate information and top-quality resources so buyers and sellers can make the best decisions for them based on their own unique needs and desires.
More and more, Barbara is developing a love for working with those relocating to the area.
"Colorado Springs is an exceptionally wonderful place to live. It is a delightful experience sharing the city and surrounding Pike's Peak Region attractions with others knowing they will love it as much as I do."
In her free time she enjoys hiking, skiing, reading, cooking, baking, working in the yard... and most of all, deeply satisfying relationships with family and friends.
A few words from previous clients:
"Barb was very helpful in finding me a home. She was available and answered my questions quickly. I really appreciate all the time she spent helping me through a stressful time." ~Daniel S.
"This was my first home buying experience and, as crazy as the market is, I thought it would be a difficult process. Gail and Barb made the entire experience so easy! They are so detail oriented, knowledgeable, and on top of the market that everything went smoothly and quickly and I never had to worry about a thing. I would absolutely recommend working with them to buy a home as they helped make my dream come true!" ~Jill C.
"We cannot say enough good things about Barb! She went above and beyond to get us a house under very short notice. She worked tirelessly to find us just the right house, was very professional and prompt with keeping us updated, and was a pleasure to work with. We would recommend Barb to anyone moving to Colorado without any hesitation!!" ~Emma L.
"Barbara and the Team were so helpful during the stressful experience of moving. This was my first time relocating to a different state and she definitely put me at ease. She was such a joy to work with, and I would recommend her to anyone. Thanks so much! ⭐⭐⭐⭐⭐" ~Olivia C.
"I highly recommend her as a realtor. I've seen her in action in almost every way (from momming to renovating houses to writing raps) and can totally vouch for her integrity and genuine care for everyone she meets. If you buy a house with Barb, she will make sure it feels like a home before you even step through the front doors." ~Rebecca M.